Tendi Glamping Lodge Tent with Bathroom
The Tendi Glamping Lodge Tent is our newest model tent of 44m2. This Glamping tent is extra spacious due to the floor in the tent. This loft is an extra nice bedroom for children and equipped with windows. There are 2 loft beds placed on the loft and there is plenty of room for play. On the ground floor is a separate bedroom with box spring beds and a children's room with bunk beds. 2 last-mentioned sleeping areas are equipped with mosquito nets. There are a total of 3 bedrooms in the lodge tent. There is a private bathroom in the tent. In the bathroom there is a toilet, sink and shower.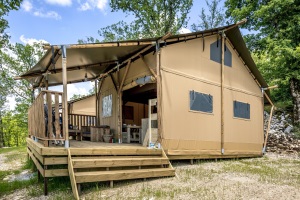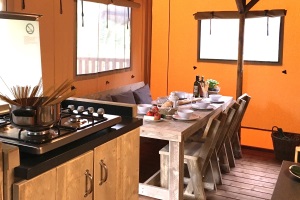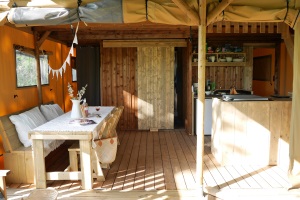 The kitchen has a contemporary design with a cooking island. This allows you to look outside while cooking. The dining area is spacious with 3 chairs and a bench and is easy to move to the veranda. The attractive veranda is equipped with a lounge set, which consists of a sofa and 2 chairs. The lodge tent is wonderfully spacious, particularly due to the loft floor, completely furnished and has a kitchen island and attractive veranda with lounge set. Look forward to a special Glamping experience in the spacious, stylish and fully furnished Tendi Glamping Lodge Tent!
The Tendi Glamping Lodge Tent with private bathroom are on: