Our campsites
We are looking for very special campsites in Europe for our stylish and fully equipped Safari and Glamping Lodge Tents. We have set up our Safari and Glamping Lodge Tents for you in Germany, Sweden, France and Italy. Every year we are looking for new travel destinations where you can enjoy special glamping holidays with Tendi. In 2017 we introduced a new type of glamping tent: the Glamping Lodge Tent.
The Glamping Lodge Tent is comfortably furnished and offers plenty of space. There are 3 sleeping areas in the tent - for glamping holidays with up to 6 people. The private bathroom ensures camping with comfort. The cooking island and the lounge furniture on the veranda give the tent its special flair! Tendi selects its partner campsites itself and visits them regularly.
All Tendi holiday destinations are characterized by that certain something - for example an individual atmosphere far away from mass tourism, a fantastic view, a unique location around a castle, on a farm, by a lake, often in a particularly quiet and idyllic secluded location. The Tendi holiday destinations are often small, owner-managed campsites. We attach great importance to the fact that the campsites are small or medium-sized. They are often located on a farm or in a special location, are managed by the owner family and offer high-quality, individual services. Tendi tents can also stand on rural holiday resorts with "Chambres d'hôtes", with guest rooms, or on an agriturismo, a holiday farm.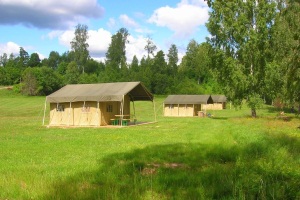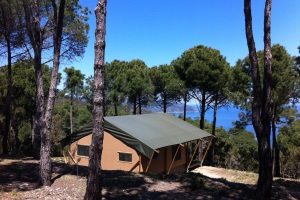 Almost all Tendi holiday destinations have a swimming pool and offer many opportunities for children to play. You can usually order fresh bread for the glamping breakfast - and enjoy delicious dishes in the restaurant, in the bistro or on the terrace. The equipment, services and sports facilities of the Tendi travel destinations can vary. Our aim is to describe the individual holiday destinations for you as precisely as possible so that you can choose your personal dream holiday.
The Safari and Lodge Tents are on large pitches and / or offer a particularly beautiful view. Tendi offers 3 types of Safari and Lodge Tents. If you book a Safari Tent without your own bathroom, you can use the sanitary facilities of the camping parks or holiday complexes in which the Tents are set up. The Safari and the Lodge Tent with their own bathroom offer special comfort and are also suitable for beginners. These glamping Tents have a bathroom with shower, sink and toilet. The luxurious Safari Tents with private bathrooms are available at Camping Monti del Sole, Camping Paradiso, Orlando in Chianti, Tenuta delle Ripalte, Tenuta Tredici Ulivi, Podere sei Poorte, Rosselba Le Palme, Agriturismo Eucaliptus, Mar y Sierra, Agriturismo Le Sorgive e Le Volpi, Camping Vallicella, Le Clos de Banes, La Clairière, Lac de Bonnefon, La Maison Bornat, Domaine de la Faurie, Camping de Kerleyou, Saint Amand, Les Lauriers Roses, La Maison Bornat and at the campsite Borken am See.
The Lodge Tents with private bathrooms are on Camping Weekend, Monti del Sole, Camping Paradiso, Camping L 'Ardechois and Domaine de la Faurie. The Safari Tents are on the other Tendi campsites.
The environment also plays a major role so that you can enjoy individual and eventful glamping holidays. In the welcome folder, which is available for you in the Tent, we have compiled information about the area - in close cooperation with the operators of the vacation paradises. They know their way around particularly well and are happy to give you secret tips about the region, help with questions and have maps. You will also find numerous tips for excursions and activities related to your Tendi glamping site on every website on our website..
Search and book directly